Standard Room
(Rooms For Couples)


The Air Conditioned cozy Room for couples near Mumbai & Nashik. It Consists of King Bed , 2 Bedside Tables, Wardrobe & a Desk & Chair. The room has 32 inches LED TV & WIFI. The room is situated on lower ground floor hence it has private sit out. As a result it offers a complete privacy for couples. The room is exclusively decorated with all the modern amenities required for the millennial. The surrounding is very peaceful. It is the most affordable room in the entire property, still has all the modern amenities and services provided like a four star room. The room is spacious enough to spend your weekend by relaxing & rejuvenating.

Executive Room
(Book Online Get Best Rate)

Executive Rooms are typically 4 star category rooms with standard resort amenities. These rooms are in a ground plus two storied boutique building. The building is designed in a corner of the resort to offer great view & serenity to the occupants. The rooms are equipped with air conditioning, king size bed, modern toilet, huge balcony and great view. The room size is approximately 300 sq.ft. The executive rooms Have two views, front side is garden view with off leash park. Backside is Mountain & Valley view. In monsoon witness number of waterfalls from your room.

Valley Facing Villa
(Book Online Get Best Rate)

Valley Villa is a two Bed Room Villa with a common Sitting Room. One can either book a single bed room or Both the bed rooms. In case single bed room is booked sitting area is shared with other room. if both the bedrooms are booked by single guest sitting area can be used exclusively. Both the bedrooms are valley facing villa rooms. It has uninterrupted view of picturesque mountains and valleys surrounding the resort. The size of individual room is approximately 400 sq ft. & Villa is approximately 1000 sq. ft. Each bedroom is equipped with 32 inches LED TV, King size bed, Wardrobe, Desk & chair.

Signature Villa
(Book Online Get Best Rate)


Signature Villa is the most premium villa in Manas Resort With Petting Zoo! The Villa is decorated for ultra modern lifestyle of Today's elite from metro cities. The Villa consists of Living room, Bed room, Swanky Toilet with Italian Marble, Hot & Cold Rain shower in a glass cubicle and premium fittings. The Villa is single storied structure with private front garden and backyard. Living room is attached with big sit out. The constructed area of the villa is approximately 1000 sq. ft. Both the rooms are fitted with 52 inches smart TV, home theater system, WIFI enabled, LED Lighting, and modern furniture and fixtures.

Suites
(Book Online Get Best Rate)

Suites Are One Bed & Living Cottages Designed For Elite Families & Groups. These are newly renovated Luxurious & Spacious suits Accommodation. It Consists of Air conditioning in both Rooms. It has a private sit out with Front & Back yard. The bed room has King size bed. The Living room has luxury couches. LED Lighting, 32 inches LED TV, WIFI, Safe deposit lockers, etc are the amenities. It can accommodate 6 people. the suit area is approximately 1000 sq ft. Both the rooms are facing lush green landscapes, which is soothing and De stressing. These Suites are great for big families. These are wonderful for groups accommodation also.

Royal Villa
(Book Online Get Best Rate)

Royal Villas are our heritage Villas. It Consist of a Living Room & Bedroom. It can easily accommodate 6 people. King size bed with 32 inches LED TV, is provided in the bed room. Living room has futon beds and 32 inches LED TV. Both rooms are WIFI enabled.These are single storied villas with private sit out. It has its private lawn. The villas are suitable for family picnics or group picnic, who wish to stay together and enjoy the vacation. Rooms have large size compared to city room sizes. The interior and fixtures are traditional & rustic. Bed room is Air conditioned. Living room has fan and Big windows for ventilation.
Accommodation at Manas!
Manas Resort is designed so as to comfort your senses and to maintain privacy.
We have Luxury rooms with 6 different categories. It serves every purpose of yours, be it holidays, weekend getaway, or one day picnic. We host Destination wedding or corporate events like, Team Bonding, Training program, Conferences, Seminars etc. Our rooms are designed keeping in mind the natural feel of the surroundings.
Manas Resort can accommodate approx. 350 guests in 6 different categories of rooms. The room keeps you cool even in summer. Rooms do not limit you to four walls, but lets you enjoy the nature and its beauty even from within. It will give you a feeling of your own villa rather than a commercial resort. 'It's more of crafted than built'. The windows are big enough to give you that understanding of constantly changing surroundings. Even after facing the heavy rainfall, the rooms do not let you feel a single drop inside.
The construction is made of natural material, where ever possible to gel with the surrounding nature. Roofing is covered with Mangalore tiles so as to offer you natural cooling in the room. The Panoramic windows give a full view of the lush green garden around you. The interiors are modern but not jazzy. The furniture, fixtures, colour, everything is soothing and De stressing.
Facilities
Smoking Free


We offer a smoke-free environment where people can breathe the natures freshness.

Private Bathroom


We offer private bathroom attached to every room.

Laundry Service


We also offer laundry service to make yourself more busy in enjoying the nature.

Welcome Drink


We all welcome you with a special, offers you welcome drink.

King Beds


We offer king size bed where you don't need to compromise the space to relax with your family.

Bike Rental


We also care your valuable time so we do provide rent to bike to let you travel and enjoy the scenic beauty.
Photo Gallery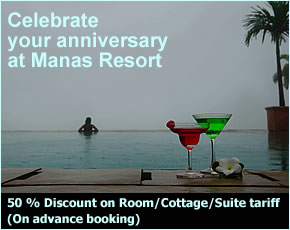 Manas Resort
A beautiful, serene and rejuvenating destination tucked away in a natural paradise, yet within a few hours
or a few minutes from many unique sightseeing and religious locations:
Sightseeing Packages
From Manas Resort