Scenic Location

Manas Resort, Igatpuri, is surrounded by hills and valleys and one gets a very beautiful view all around the resort. The resort overlooks the Camel Valley, and on a clear day one gets a spectacular view of the Kalsubai Peak just across the highway. Kalsubai Peak is the highest peak in Maharashtra. Igatpuri is heavenly throughout the year, but in the monsoon it is doubly blessed. The monsoon rain envelopes the resort and its surrounding areas. There are many days when you are literally overlooking the clouds; the clouds are actually swirling around you and floating below your gaze. The dense fog sometimes reduces visibility to just a few metres. There are several lovely waterfalls nearby and the surroundings are batherd in lush greenery. At winter too the resort merges into another enchanting natural setting. What about the Summer? Well, believe it or not, Manas Resort has its own summer loyalists too. You can call it an all-weather resort.

Sightseeing

There are several sightseeing and religious places near Manas Resort. We arrange regular sightseeing trips to these places for our guests. The popular venues for which we organise trips are: Shirdi, Trimbakeshwar Shiva Temple, Ghatandevi Temple, Shani Shingnapur, Manas Temple, Dharmachakra Jain Tirth, Saptshrungi Devi Vani, Shrine Of Infant Jesus Church, Vipassana Research Institute, Gargoti Mineral Museum, Bhatsa River Valley, Camel Valley, Tringalwadi Fort, Tringalwadi Lake, Vaitarna Dam, Vihi Waterfall, Bhandardara Dam.

Connectivity

Manas Resort is in Igatpuri, a town and hill station in the Western Ghat mountains of Maharashtra. Manas Resort is just 3 km from Igatpuri. Igatpuri is on National Highway NH3. It is a railway junction, and a major stop for all mail and express trains. The distances relative to other cities are:
Mumbai: 125 km by road from Mumbai, 2 hours by train from Mumbai.
Nahik: 45 km by road.
Surat: 298 km by road.
Vadodara: 432 km by road.
Shirdi: 125 km
Rooms & Cottages

Accommodation at Manas Resort is designed so as to comfort your senses and to maintain privacy. We have incomparable rooms, to serve every purpose of yours, be it holidays, weekend getaways, one-day picnics, destination weddings or corporate conferences.


The Executive Room has air-conditioned bedroom with a balcony facing the valley; you can sit in the valley and admire the astonishing natruarl surroundings. The room has a 32-inch LCD TV. If you wish, you can make coffee and tea round the clock in your room itself.

The Valley Villa Room has an air-conditioned bedroom with a common sit-out area. The valley can be viewed from its balcony. It has a king-size bed, a 32-inch LCD TV, a safe locker, and a tea/coffee kettle.

The

Suite

comprises one air-conditioned living room and one air-conditioned bedroom with a king-size bed. It has a 42-inch LCD TV, a safe locker, and a tea/coffee kettle. The suite also has a private lawn.

Doctor on Call
We have a doctor on call round the clock. A medical store is also available nearby. Besides, there is a hospital at Igatpuri, 5 km from the resort.
F&B Services

The food at Manas is truly mesmerising, both in terms of its quality and its generous portions. There are two restaurants: 360° open-air multicuisine restaurant and Crème air-conditioned restaurant. There is a totally separate vegetarian section too. 360° serves Indian, Chinese, Continental and several other special cuisines. On weekends, we also offer stunning buffets for breakfast, lunch and dinner.

Crème is a circular restaurant with a single pillar and large glass panels which allow you an unobstructed view of the surrounding greenery. The restaurant also has settings specially designed for children.
Banquet Facilities

3 fully air-conditioned conference rooms
1 Board Room
Several covered outdoor areas
All modern audiovisual equipment
Wedding Destination

The search for the perfect destination wedding venue ends here.
• Resort spread over 7 acres
• 25,000 sq ft green lawn
• Accommodation for about 350 guests
• 60 rooms in 6 different categories
• Honeymoon Room
• Rich Food and Beverages selection
• Multi-layer swimming pools (for adulta and children) with 20-foot artificial waterfall
• Varied decoration and lighting options
• Three AC Banquet Halls
• DJ Music, Mehendi, Dhol, White Ghodi, Pandit
• Large car and bus parking area
• Children's Playing Area
• Resort is also available for Day Weddings
Business Destination

3 fully air-conditioned conference rooms
1 air-conditioned Board Room
Outdoor areas for training programmes
Outdoor areas for team-building activities
60 rooms in 6 different categories
Pet Friendly Zone

Pet parents now have a reason to cheer. Large areas of our resort are pet friendly. This means that you will no longer have to leave pets at home. Besides, your pets will also get an opportunity to make new friends in our pet farm.
Pet Farm: The Pet Farm is a home for a variety of friendly animals and exotic birds. Come and play with our in-house pooches, including Akita, Long Coat German Shepherd, Rough Collies, Labrador, Doberman and many more. We have socialised these dogs so much that they are super friendly with our guests and other pets. The Pet Farm also has a variety of exotic pheasants and chickens including Polish, Silkie Bantam and Cochin Bantam.

Off Leash Park: A large 15,000 sq. ft. off-leash area in which your canine buddies can play and exercise freely to their heart's content, in the company of other four-legged pals. This playground has an assortment of agility equipment like dog jump bar, see-saw, dog walk ramp, doggie jump hoops, weave posts, canvas tunnel and doggie rest table where your pets will enjoy playing. Apart from the fun that your pet is assured of, this increased physical activity will be instrumental in minimising health and behavioural problems in pets.

Pet Training: Get your pet trained by a world-renowned trainer, Mr. Sachin Raawte. He knows all that there is to know about exercising pets so that they do not get bored and all the excess energy is creatively used. Scientific methods, interactive props and proper training ensures that your pet learns a few tricks of its own before you return home. We also provide training to new pet parents on behavioural management for them to understand different behaviour aspects of their pets.

Animal Food & Beverage: Manas Resort is famous for its delectable yet healthy food options and your pets will surely love it too. We will consult with you about your pet's likes and dislikes and provide food that make your pets feel absolutely at home. You can bring your own pet food too.

Special Kennels: We have created special enclosures for your pets and these cosy, comfortable kennels will ensure that they get a great night's sleep and wake up refreshed and rested, just like you. Our attendants will ensure that your pets enjoy their stay at Manas. Your pets can also stay with you, in the special pet-friendly rooms.
Packages

We have different tailor-made packages for the various requirements of our guests and corporate clients:
1. Stay Packages
2. Wedding Packages
3. Conference Packages
4. Sightseeing Packages

Contact Information
303/A, National Highway 3, Talegaon, Igatpuri, Nashik, Maharashtra 422403 --- 02553-301111
marketing@worldofmanas.com
www.manasresort.in (website)
Contact (24 x 7) Ms Sonali Pawar: +91 9222277719
For Group Bookings: +91 9222277719
For Corporate Enquiry: +91 9222277720
For Wedding Enquiry: +91 8655529201
For Room Bookings: 022-26261212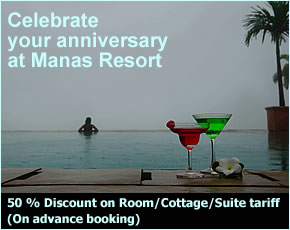 Manas Resort
A beautiful, serene and rejuvenating destination tucked away in a natural paradise, yet within a few hours
or a few minutes from many unique sightseeing and religious locations:
Sightseeing Packages
From Manas Resort