First Petting Zoo In India | Pet Therapy
Its a First Petting Zoo in India. First Petting Zoo near Mumbai, is offering free pet therapy. We all have been hearing about Animal Assisted Therapy (AAT) or pet therapy, for quite some time. The therapy is to touch the animals, birds, know about them, feel them and play with them. The idea of interacting, touching, playing with animals and birds can actually heal, our broken minds and bodies is quite appealing. There have been en number of research studies all over the world and the reports are quite positive. It is claimed by researchers that Animal Assisted Therapy, can significantly reduce pain, anxiety, depression and fatigue in people with a range of health problems:


People with mental stress
People with work stress
People with chronic illness
Children who can not concentrate
Children having dental procedures
People receiving cancer treatment
People in long-term care facilities
People hospitalized with chronic heart failure
Veterans with post-traumatic stress disorder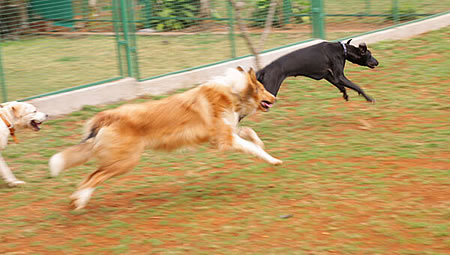 And it's not only the ill person who reaps the benefits. Family members and friends who accompany the people opting for therapy also feel better. We at Manas Resort With Petting Zoo have taken initiative to offer that facility to our guests at absolutely no cost. We have twenty different exotic Dog breeds, which are trained to be human friendly. We have small breeds as well as big breeds that are friendly to the extent that even children can play with them. It is ensured that they are kept in clean, hygienic environment, with proper diet. Famous Veterinary doctor Mr. Sanjay Kasar, regularly carry out check ups to ensure that they are healthy. We have created a 15000 SQ.FT. off leash park with agility equipment installed in it. It ensures proper mental stimulation and exercise to the pets and guests alike. Famous trainer Mr. Sachin Rawte trains the dogs. One can see his videos on you tube.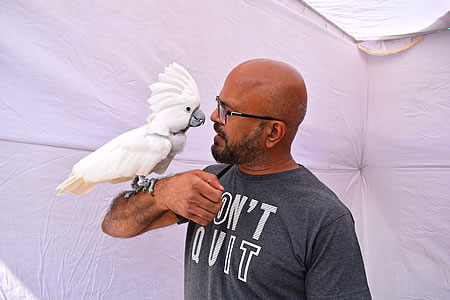 We also have created Walk In Aviaries all over the resort, for housing different exotic birds. These exotic birds are human friendly. Our birds actually love to be feed by human. Our birds not only eat from guest hand, but they love to play with guests. Once you enter the walk in aviary, all would like to come and sit on your hand, shoulders, cling on your body to play with you. Its an amazing experience for which people visit places like Singapore bird sanctuary and end up paying lot of money to experience it. At Manas resort with Petting Zoo its available for free which is near to Mumbai. No need to fly to Singapore. We also have exotic Sugar gliders, Red Iguanas to play with to name a few. Don't hesitate to feed and play with them. Red turkeys cackles while roaming around the resort is such an interesting thing to watch. We have en number of exotic hens, which amuses everybody. Our Ostrich is a fun to play with which has its private long run up, as it never sits at one place.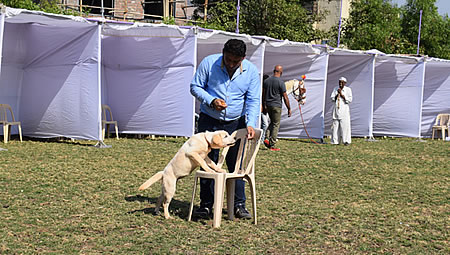 Exotic birds, Friendly Animals, Exotic Dog Breeds. Kids Friendly Petting Zoo. Walk in Bird Aviaries. Off Leash Park With Agility Equipment. African Grey Parrot, Sugar Gliders, Iguana, Conure's, Pheasants, Exotic Hens, Ostrich to Play with. Manas Resort with petting zoo near Mumbai-Igatpuri, is known for nature and a perfect family getaway for weekends near Mumbai. We are now offering a new way of connecting with nature. Let the children get acquainted, with Exotic Birds, Animals, Dogs etc. Feed them, play with them, understand their behavior. Our entire resort is pet friendly. Do not hesitate to bring your pets, We welcome them.
EXOTIC BIRDS & ANIMALS
Manas Resort Petting Zoo, Igatpuri, is surrounded by misty mountains and is a home to a variety of friendly animals and exotic birds. Come and play with our in-house pooches including Japanese Akita, Long Coat German Shepherd, Rough Collies, Labrador, French Bulldogs and many more. We have socialized these pets, to an extent, that they are super friendly with our guests and other pets. Also meet our variety of exotic pheasants and variety of chickens including Polish cap, Silkie Bantam the fur balls and Cochin Bantam and have a fun-filled stay at our resort.
DISTINCTIVE OFF-LEASH PARK
We have created a massive 15000+ sq.ft., off-leash park, so that your canine buddies can play and exercise to their heart's content. Its a Fenced area with trees and greenery all around, where your pets can play, jump and exercise in the company of, other four-legged pals. This playground has an assortment of agility equipment like dog jump bar, see-saw, dog walk ramp, doggie jump hoops, weave posts, canvas tunnel and doggie rest table where your pets will enjoy playing. Being a pet friendly resort, we have guests walking in with the pets. it gives you an opportunity for your pets to make new friends. Apart from the fun, your pet is assured of, this increased physical activity will be instrumental in minimizing health and behavioral problems in pets.
PET TRAINING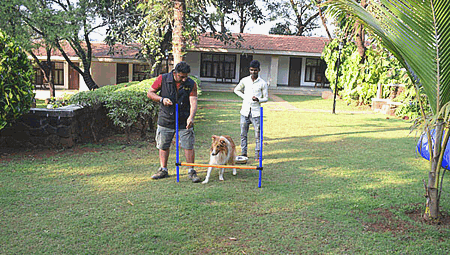 Get your pet companion trained by our world-renowned trainer, Mr Sachin Raawte. He knows all that there is to know, about training pets. Dogs need physical and mental stimulation. Certain breeds are working breeds. if they don't get stimulation pets can turn to be destructive. Pets should not get bored and all the excess energy need to be creatively used. Scientific methods, interactive props and proper training ensures your pet learns a few tricks, of its own before you reach back home. We also provide training to new pet parents on behavioral management for them to understand different behavior aspects of their pets.
ANIMAL FOOD & BEVERAGE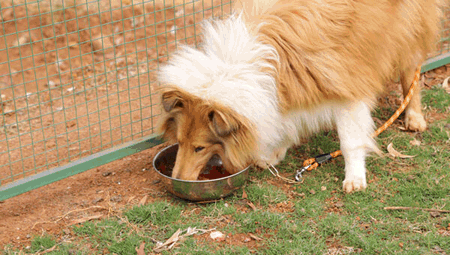 We pamper our guests to no end, including our four-legged friends, especially when it's meal time. Manas Resort is famous for its delectable yet healthy food options and your pets will surely love it too. We will consult with you about your pet's likes and dislikes and provide with food that makes your pets feel absolutely at home or you can bring your own pet food too.
SPECIAL KENNELS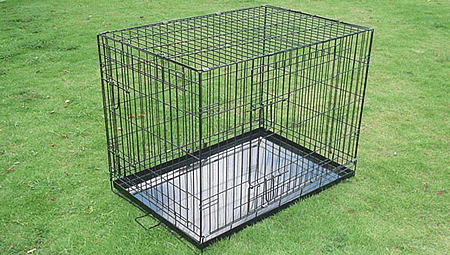 We have created special enclosures for your pets and these cozy, comfortable kennels will ensure that they get a great nights' sleep and wake up refreshed and rested, just like you. Our attendants will ensure your pets enjoy their stay at Manas. Your pets can stay with you in your room too. In case you do not have a pet but wish to have one, you are free to take one of our pets, as long as you stay in the Resort.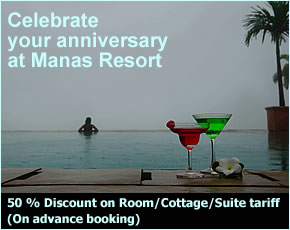 Manas Resort
A beautiful, serene and rejuvenating destination tucked away in a natural paradise, yet within a few hours
or a few minutes from many unique sightseeing and religious locations:
Sightseeing Packages
From Manas Resort